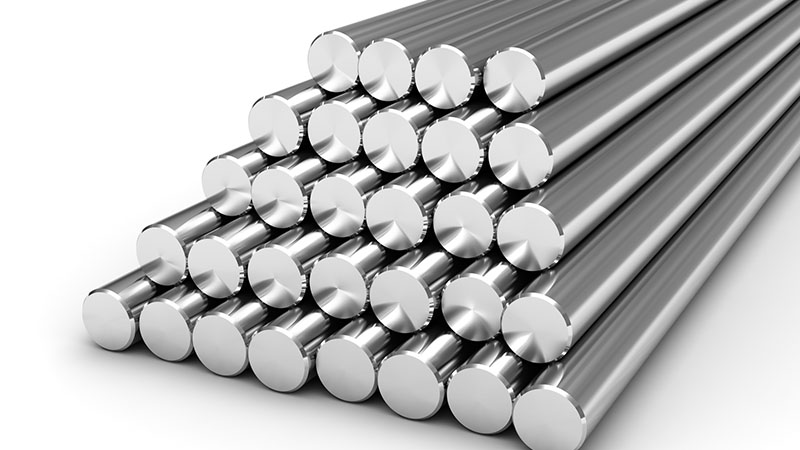 Stainless Steel (S S) Rod Manufacturer/Dealers
Montex Steel for Stainless Steel Rod Dealer in India, Stainless Steel Rod Dealer in Gujarat, Stainless Steel Rod Dealer in Ahmedabad
There are numerous applications of the Stainless Steel Rods (SS Rods). It is widely used by manufacturers of ladder industry. It's also widely used in the furnishing sector. In the furnishing sector, these steel rods are used for door handles. In short, the metal road made up of stainless steel has many applications. Some machinery such as engines of heavy vehicles has parts inside them, which are built up of 100% pure stainless steel. We are one of the reputed Stainless Steel Rod Dealer in Gujarat State. Our manufacturing plant is located in Ahmedabad City and we are one of the reputed Stainless Steel Rod Dealer in India.
Stainless steel rods are available in various shapes i.e. some of them are smooth and others are threaded. Threaded steel rods are easy to hold and convenient for holding one or more objects together. That's why they are widely used in construction sector. Smooth SS rods are mostly used for attraction and decoration purpose. If you are also looking for best quality stainless steel rods at an affordable price, then we would be more than happy to welcome you. Our team of experienced consultants and engineering specialists; all work together in co-operation with each other, to handle client requirements with ease. That's the secret of our company, why a large amount of clients trust our quality. That's what makes us the consumer-favorite Stainless Steel Rod Dealers in Ahmedabad.
The best reason why a large amount of clients trust our company is that, we never misguide our clients. We always provide the best consultation to our clients; depending on their requirements. We also work with our clients to save their time and money. The highly qualified and experienced sales team employed at our firm, works in co-operation with the client; to make our quality products available to clients, at a very reasonable price. There are several Stainless Steel Rod Dealers in Gujarat which sell 'defected quality at high rates'. In contrast, every deal is a guaranteed deal in terms of quality and affordability, at Montex Steel.
There may be many Stainless Steel Rod Dealers in Ahmedabad but none can be compared with Montex Steel. We deliver pure steel only; and that too, at a very affordable price. Pure steel has an excellent resale value, compared to steel consisting of larger quantity of other alloys. Secondly, the products which are made up of stainless steel enjoy the benefit of increased lifespan. According to a research conducted by the Federal Highway Administration (FHWA) of United States, the bridges constructed using the Stainless Steel Rods and SS Bars, have the ability to extend the lifespan of a bridge by about 80 to 110 years, which is more than what a cemented bridge could have survived. Their study indicated this fact on the grounds of anti-corrosion properties that are available in 100% pure stainless steel
Stainless & Duplex Steel
RANGE
SIZE RANGE FOR BARS :Dia 5MM To 500 MM & Length 500 MM to 6000 MM. STAINLESS STEEL:ASTM / ASME SA 276 TP 202, 304, 304L, 309S, 309H, 310S, 316, 316L, 316 TI, 317 L, 321, 347, 410, 420, 430, 431, 440A ,B & C., 446, 17-4 PH, Duplex Steel:ASTM / ASME SA 276 UNS NO. S 31803 , S 32205 , S 32550 , S 32750 , S 32760. Carbon Steel:ASTM / ASME A 105. Alloy Steel:ASTM / ASME A 182 GR F 5, F 9 , F 11 , F 12 , F 22 , F 91. ASTM / ASME A 729 GR B 11 & B 22. Nickel Alloy : ASTM / ASME SB 160 UNS 2200 (NICKEL 200) / UNS 2201 (NICKEL 201) ASTM / ASME SB 164 UNS 4400 (MONEL 400)
ASTM / ASME SB 425 UNS 8825 (INCONEL 825) ASTM / ASME SB 166 UNS 6600 (INCONEL 600) / UNS 6601 ( INCONEL 601) ASTM / ASME SB 446UNS 6625 (INCONEL 625) ASTM / ASME SB 574 UNS 10276 ( HASTELLOY C 276) ASTM / ASME SB 472 UNS 8020 ( ALLOY 20 / 20 CB 3) High Speed Steel (HSS): M2, M3, MJ5, M42. T-1. T-4, T-15, T-42, D2. D3, H11, H13, OHNS-01 & EN52 , HCHCR & OHNS in Grade. Other Grade : Aluminium,Phosphorus Bronze, Gun Metal, Lead, EN Series Etc. Finish :Bright, Polish & Black. Form :Round. Square, Hex (A/F), Bush, Rectangle, Flat, Block, Billet, Ingot Etc. Hardness :Soft, Hard, Half Hard, Quarter Hard etc. Test Certificate : MTC, IBR TC, Lab, TC from Govt. App. Lab, with Third Party inspection. Specialize :304, 316, *17- 4PH, Copper E/c Grade.